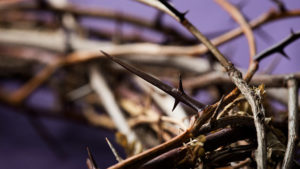 March 5, 2020      Esther C:12, 14-16, 23-25     Matthew 7:7-12
Not everything we want and ask for is good for us. The lesson we hear today in the scripture readings is not to hesitate to prayerfully ask God for what we need. In faith we believe and trust that God hears us … but we don't know what the answer will be.
In the first reading … Esther was in anguish. The story behind that is she hid her Jewish identity … became queen of Persia … and begged God for the courage to face the king with the truth of who she really is and ask him to spare her people. So … even through her anguish … she trusts that God who was faithful to her ancestors … will not forsake her. Esther doesn't know how it will end up … but she trusts that God will help her.
What we hear in the Gospel also requires trust. Ask … and it will be given. Knock and the door will open. Seek and you will find. Sounds so wonderful. Pope Francis references this passage and says it sounds like a guarantee that prayers will be heard. BUT … it doesn't tell us that if we ask … we will get exactly what we ask for … or if we seek what we will find … or when we knock what will be on the other side of that door. Nevertheless … the promise is … that prayers will be heard … and God will respond.
May we continue to turn to the Lord in prayer and ask for what we need … trusting that the Lord will always give us what is best for us.
SMAS, CSSF