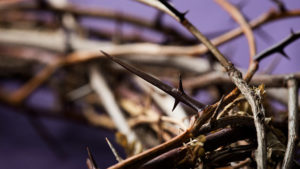 March 6, 2020      Ezekiel 18: 21-28     Matthew 5:20-26
There are two aspects to following rules. The observable fulfillment … and the attitude behind the fulfillment of the law.
The Pharisees in today's Gospel do not understand this … their focus was on strict outward observance … down to minute detail. It was empty legalism … but they saw it as holiness.
Jesus comes along and affirms that "Do Not Kill" is indeed a high bar … but it lacks the dimension of love. So … Jesus raises the bar using a simple word … "BUT". He once again stretches the prevailing understanding and re-interprets the commandment … suggesting that killing in the broad sense is more than a physical act. We are body and spirit and the spirit can be killed through psychological or emotional assault. Jesus cites anger as a form of killing because it prevents reconciliation and kills relationships. Behaviors that wreck relationships are akin to killing.
Just over a week ago … at the imposition of ashes … we heard the words "repent and believe in the Gospel". May that be our guide for going beyond minimalism and internalizing the message of the Gospel.