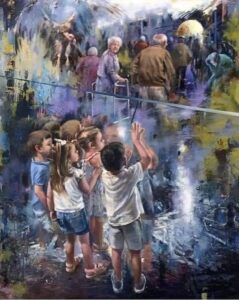 The Holy Souls in Purgatory
Monday, November 2, 2020
Commemoration of All the Faithful Departed (All Souls Day)
Readings for Today
The following excerpt is from Chapter 8 of My Catholic Faith!:
As we celebrate the Commemoration of All Souls, let's reflect upon our Church teaching on Purgatory:
The Church Suffering:  Purgatory is an often misunderstood doctrine of our Church.  What is Purgatory?  Is it the place we have to go to be punished for our sins?  Is it God's way of getting us back for the wrong we've done?  Is it the result of God's anger?  None of these questions really answer the question of Purgatory.  Purgatory is nothing other than the burning and purifying love of our God in our lives!
When someone dies in God's grace they are most likely not 100% converted and perfect in every way.  Even the greatest of saints most often would have some imperfection left in their lives.  Purgatory is nothing other than that final purification of all remaining attachment to sin in our lives.  By analogy, imagine that you had a cup of 100% pure water, pure H2O.  This cup will represent Heaven.  Now imagine that you want to add to that cup of water but all you have is water that is 99% pure.  This will represent the holy person who dies with just some slight attachments to sin.  If you add that water to your cup then the cup will now have at least some impurities in the water as it mixes together.  The problem is that Heaven (the original cup of 100% H2O) cannot contain any impurities.  Heaven, in this case, cannot have even the slightest attachment to sin in it.  Therefore, if this new water (the 99% pure water) is to be added to the cup it must first be purified even of that last 1% of impurities (attachments to sin).  This is ideally done while we are on Earth.  This is the process of getting holy.  But if we die with any attachment, then we simply say that the process of entering into the final and full vision of God in Heaven will purify us of any remaining attachment to sin.  All may already be forgiven, but we may not have detached from those things forgiven.  Purgatory is the process, after death, of burning out the last of our attachments so that we can enter Heaven 100% freed of everything to do with sin.  If, for example, we still have a bad habit of being rude, or sarcastic, even those tendencies and habits must be purged.
WASHINGTON (CNS) — The feast of All Souls' Day, when Catholics remember and pray for the dead, has weighted significance this year when so many have died of COVID-19 and the pandemic's restrictions have prevented usual funeral services and final goodbyes in person.
In the Los Angeles Archdiocese, scaled back All Souls' Day plans are continuing and they will include, as in previous years, aspects of the Mexican celebration Día de los Muertos, or Day of the Dead, celebrated Nov. 1-2.
All Souls' Day was initiated in the 11th century by St. Odilo of Cluny, the abbot of the Benedictine Abbey in Cluny, France, who urged those in his monastery to pray for the souls in purgatory every Nov. 2.
This practice spread to other Benedictine monasteries, and local bishops also began adopting it. A few centuries later it was instituted by the Catholic Church as a day of prayer for the souls in purgatory, following the Nov. 1 celebration of All Saints' Day.