Since our founding in 1855, Felician Sisters worldwide have embraced the mission set forth by our Foundress Blessed Mary Angela Truszkowska:
As Felician Sisters, called by God, we cooperate with Christ in the spiritual renewal of the world.
Our Lady of Hope Province
Our community, formally known as the Congregation of the Sisters of Saint Felix of Cantalice, was founded over 160 years ago in Poland by Blessed Mary Angela Truszkowska.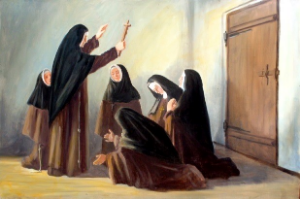 In 1874, at the request of Father Joseph Dabrowski, and with the blessing of Blessed Mary Angela, five Felician Sisters brought the Felician mission to North America. The 28-day journey brought them to the small farming village of Polonia, Wisconsin, where Fr. Dabrowski was the pastor of St. Joseph Parish.
At the schoolhouse in Wisconsin, the Felician Sisters educated the children of Polish immigrants, and soon began publishing Polish textbooks to aid in teaching the immigrant children. They also ministered to members of the indigenous tribes of the area.
Women who identified with the charism of the Felician Sisters began to join them in their ministries. By the early 20th century, Felician Sisters were a significant presence across much of the United States, and they soon had established a presence in Canada as well. Recently, we extended the reach of our ministries with the establishment of a mission in Haiti.
On November 21, 2009, the Felician Sisters celebrated the 154th anniversary of the congregation's founding by Blessed Mary Angela. We also marked the beginning of a new chapter as the eight former provinces in North America (namely Mississauga, Ontario, Canada; Enfield, Connecticut; Chicago, Illinois; Livonia, Michigan; Lodi, New Jersey; Rio Rancho, New Mexico; Buffalo, New York; and Coraopolis, Pennsylvania) united into one – Our Lady of Hope Province.