An Ordinary Beginning – An Extraordinary Journey
Lillian Halasinski (1913) – Wife, Mother
THE CURE THAT LED TO THE BEATIFICATION OF BLESSED MARY ANGELA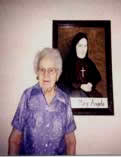 The church certified the healing of Lillian as a miracle which led to the beatification of Blessed Mary Angela onApril 18, 1993 in Rome, Italy.
The Felician Sisters began the process of canonization of the venerable servant of God, Mary Angela Truszkowska, in 1949. The opening of the preliminary process of inquiry into the life and reputed holiness of Mary Angela began on October 29, 1949. The different stages of investigation occurred between 1949 and 1982. One of the stages of the investigation is the Process of Inquiry into alleged miracles http://feliciansisters.org/bl-mary-angela/beatification/
The Felician Sisters are actively promoting the Cause for the Canonization of Blessed Mary Angela:
by making her better known around the world through the distribution of publications and newsletters;
medals and holy cards;
by spreading devotion to her during prayer gatherings and group meetings;
through the writing of spiritual documents, prayers and other publications;
by seeking out and investigating alleged miraculous cures that may further Blessed Angela's cause for canonization.