"It was so much higher than I expected. I wondered aloud how anyone could possibly climb over it. One volunteer said they use ladders on the Mexican side to climb up, and then drop down onto the US side. It seemed impossible to not get hurt.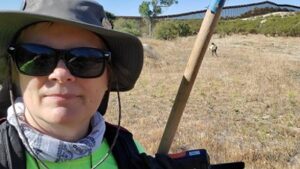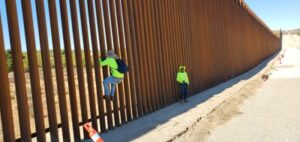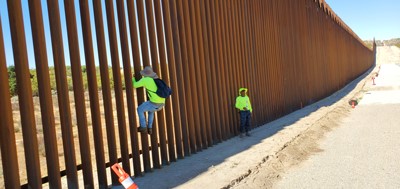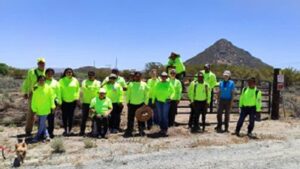 "The Wall seemed to be about two stories high, maybe 20 feet. Another volunteer remarked that the gentleman we were searching for didn't get very far. Someone said that he had broken his leg when he dropped down. He tried to continue, but within a very short time, the group had to leave him behind.
"Someone pointed to a powdery sandy area and said that authorities rake this sand so footprints will be clearly seen if someone jumps down and walks across it. The bars are about six inches apart.   "One of the guys tried to climb it like a coconut tree, but he didn't get very far. I put my arm through and for a few moments I was in two countries. I wondered how anything 'we have' could need this much protection.  "The group returned to the search area a little subdued. Unfortunately, the vegetation was so thick that we did not locate the migrant's body."
The following is a joint statement issued by The National Black Sisters' Conference (NBSC) and the Leadership Conference of Women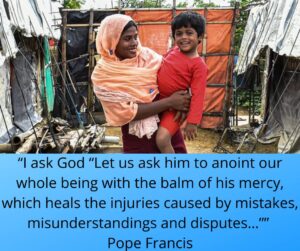 Religious (LCWR) in response to the conviction of former police officer Derek Chauvin for the murder of George Floyd.
We, the National Black Sisters' Conference and the Leadership Conference of Women Religious, stand together in our commitment to the sacred dignity of each human person as emphasized in Catholic Social Teaching.
In the aftermath of the guilty verdict in the trial of Derek Chauvin for the murder of George Floyd, we recommit to working for real and sustained systemic change in the struggle to end institutional racism in every aspect of our society.  Sadly, we know that the trend of fatal police shootings has only escalated in this country over the last four years. The rate of fatal police shootings among Black Americans is much higher than that of any other ethnic group. Starting with the savage beating of Rodney King in Los Angeles in 1991 up to the murder of George Floyd in Minneapolis, the trend of abuse at the hands of law enforcement has alarmingly increased.
In 2020 there were 1,021 fatal police shootings, and in the first three months of this year 213 people have been shot by the police; 30 of whom were African Americans. Police brutality is only one of the many manifestations of systemic racism; but it is one that too often ends in the death of too many young African Americans.  We believe that we are at a crucial moment in race relations in this country. We must acknowledge and work to eradicate the sin of White Privilege that seeks to affirm the false superiority of Anglo-Saxon culture and way of life.  We must as Dr. Martin Luther King, Jr. admonished us "learn to live together as brothers (and sisters) or perish together as fools." Therefore, we call upon all people of good will and especially people of faith to join us in working for real and sustainable solutions to the racial divide in our country.  We will not rest and our work will not be done until the belief that all people are created equal and entitled to the promise of life, liberty, and the pursuit of happiness, is a lived reality for every American citizen.
Resources for peacemaking and nonviolence:

As the Eagles of the Desert prepared for a search this past weekend, a friend sent this beautiful image of Our Lady of Guadalupe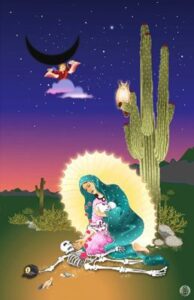 to S Maria Louise Edwards. The artist wishes to be known as La Corua.
To learn more about her, click here.
Sister Maria Louise said, "Her image of Our Lady brought to mind the numerous times the Aguilas have found human bones in the Arizona and Californian deserts, where hundreds of migrants die every year." She added, "Since Aguilas began in 2012, they have rescued the lives of more than 80 people, recovered the remains of more than 90 people, and received more than 6000 contacts for help."
Sister Maria Louise explained that, "In this image, Our Lady's tears turn to roses that rain down blessings on the deceased. As she sorrowfully collects this migrant's bones, it made me wonder how alone he must have felt when he died. Our Lady's presence is a comforting reminder that not even a sparrow falls to the ground that God doesn't know. At the same time, I keep trying to understand why there isn't a greater outcry over the injustice of this unnecessary loss of life. Those who die in the desert are certainly the voiceless of our time."
La Corua writes, "Sonoran Arizona remains America's migrant graveyard… I continue to find ways where I can honor all those who gave up everything for a better life. It is my intent to show here that we can only hope they are being received into a better place than those they knew in their home countries or in our deserts."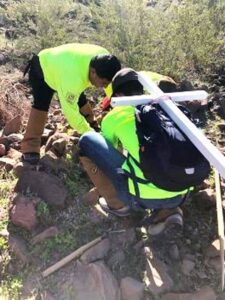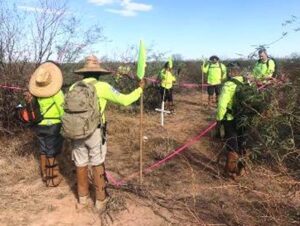 Since 2017, the Chinese government has placed an estimated 1.8 million predominantly Uyghur and other Muslim minorities in detention camps, prisons, and factories in the Xinjiang Uyghur Autonomous Region resulting in wide-spread forced labor involving Uyghur workers across the region and in other parts of China. The Felician Sisters of North America has joined over 200 organizations including investors, civil society organizations, and trade unions to endorse a Call to Action, which calls for apparel brands to stop sourcing from the region due to the near certainty of forced labor. The Call to Action also calls for a plan for disengagement of all business relationships with a connection to this Region during a one year period. Brands and retailers must fulfill their corporate responsibility to respect human rights as defined in international frameworks including the UN Guiding Principles on Business and Human Rights.
Thank you to the Detroit News for posting this photo of our Felician Sisters Felicity, Francis and Shelley (along with Takaari and Skylar) participating in a public rosary on the plaza outside the Basilica of Ste. Anne de Detroit in southwest Detroit to pray for peace and for an end to the sin of racism:
https://www.detroitnews.com/…/pray-peace-and-e…/3171300001/…
by S Maria Louise Edwards, CSSF  In 2019, thanks to the direct contribution of Aguilas del Desierto, either through searches or by serving as a conduit for communication between 'coyotes,' family members and authorities, 27 migrants were rescued alive. That's an average of two lives saved each month.
Felician Sisters Changing the World with the Community of Sant'Egidio
| | |
| --- | --- |
| | |
| | A painting near the dining room |
The Community of Sant' Egidio is an "international public association of the laity" of more than 60,000 lay people active in more than 73 countries throughout the world.  The Community was founded in 1968 by ndrea Riccardi, an Italian historian, professor, politician and activist.
During her term as minister general, SM Celestine Giertych was in communication with the Sant'Egidio Community and made arrangements for the sisters in the Generalate to house two families of refugees before the renovation project began.
 The Generalate community provided a safe environment where they could begin to recover from the horrors of war.
The Sant'Egidio community located a farmer who was willing to take this family in and provide housing and employment on their property. The sisters tearfully bade farewell to them and gifted them with a crucifix for their new home.
The second refugee family consisted of two teenage girls who were being hidden from their Muslim uncle who attempted to sell them into marriage to terrorists.  Both families stretched the sisters' understanding of different cultures and religions and opened their hearts to all in need.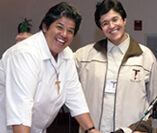 General councilor S Margaret Marie Padilla began volunteering her time on Friday evenings at the Sant' Egidio Community Center in the Trastevere area (the oldest section of Rome). Sister Margaret assisted with distributing clothing to the members of the Gypsy Community in Rome. She became such a familiar figure at the Community Center, that she was recognized and acknowledged by those who benefited from her service wherever she traveled by bus, tram, or subway.
 S Jusciêda Maria Araύjo Menezes joined Sister Margaret on Friday evenings at the Community Center.  Sister Jusciêda continued her service at the Community Center.  The poor around the Vatican greet Sister Jusciêda as Madre.
After being set up to house the homeless, the palace was dedicated and blessed by Pope Francis. Sister Jusciêda volunteered to serve breakfast on Saturday and Sunday mornings. Since the hope was to have women religious and seminarians involved in this ministry, Sister Jusciêda invited members of the Generalate community to assist her in serving breakfast on the weekends.
Thus far, S Elaine Marie Frigo, SM Anita Bienia, SM Carlotta Myszka, SM Dominika Kazimierczuk, and SM Renée Kurczaba have volunteered their time to minister to the poor.  According to Sister Renée, the most important aspect of this ministry is one of presence. She explained, "Most of the sisters do not speak Italian, but the poor around the Vatican are from several European countries and some of them speak English. However, the gift of presence transcends language."