THE CURE THAT LED TO THE BEATIFICATION OF BLESSED MARY ANGELA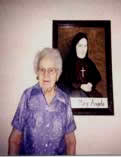 The church certified the healing of Lillian as a miracle which led to the beatification of Blessed Mary Angela onApril 18, 1993 in Rome, Italy.
The Felician Sisters began the process of canonization of the venerable servant of God, Mary Angela Truszkowska, in 1949. The opening of the preliminary process of inquiry into the life and reputed holiness of Mary Angela began on October 29, 1949. The different stages of investigation occurred between 1949 and 1982. One of the stages of the investigation is the Process of Inquiry into alleged miracles
The Diocese of Buffalo had the privilege and responsibility of participating in an investigative process when it became apparent that a miraculous healing may have occurred to one of its faithful. The Process of Inquiry into the alleged instantaneous cure of Lillian Halasinski in January 1984 through the intercession of Venerable Servant of God, Mother Mary Angela, took place from February 10 to August 15, 1986 in Buffalo, New York.