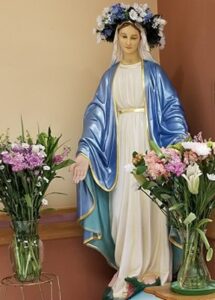 The sisters of Our Lady of the Angels Convent in Chicago, IL, gathered on the fourth floor of the East wing for the annual May Crowning ceremony on Monday, May 10.
"We are blessed to be able to gather and celebrate at this time," noted Local Minister SM Ursula Myszka, "when, a year ago, we were quarantined."
During the singing of Marian hymns, SM Lucia Skalka, celebrating her 75th Jubilee this year, carried a pillow bearing a wreath of flowers while SM Lucy Korzekwa, celebrating her 70th Jubilee, placed a bouquet of flowers at the feet of Mary. SM Theophilia Tworzydlo, also celebrating 70 years, placed the crown of flowers on the statue of our Blessed Mother.
At the conclusion of the ceremony, Sister Ursula mentioned that in the future, the May Crowning will take on a new look, as OLA merges into one convent with Mother of Good Counsel Convent, becoming Mother of Good Counsel.