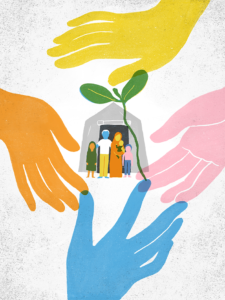 World Humanitarian Day
There is a saying that goes: It takes a village to raise a child. Similarly, it takes a village to support a person in a humanitarian crisis. With record-high humanitarian needs around the world, this year's World Humanitarian Day (WHD) builds on this metaphor of collective endeavour to grow global appreciation of humanitarian work
Whenever and wherever people are in need, there are others who help them. They are the affected people themselves – always first to respond when disaster strikes – and a global community that supports them as they recover. Far from the spotlight and out of the headlines, they come together to ease suffering and bring hope.
The 2022 WHD campaign shines a light on the thousands of volunteers, professionals and crisis-affected people who deliver urgent health care, shelter, food, protection, water and much more.
For this year's WHD, we will use digital art to tell the stories of people in need and those who help them. At the centre of the campaign is a series of beautifully illustrated aid worker profiles that show the breadth and depth of humanitarian work and collectively symbolize the wider humanitarian village.