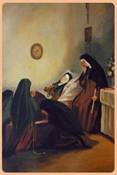 Today we honor a woman who submitted to God's will throughout her life—a life filled with pain and suffering.
Born in 1825 in central Poland and baptized Sophia, she contracted tuberculosis as a young girl. The forced period of convalescence gave her ample time for reflection. Sophia felt called to serve God by working with the poor, including street children and the elderly homeless in Warsaw's slums. In time, her cousin joined her in the work.
In 1855, the two women made private vows and consecrated themselves to the Blessed Mother. New followers joined them. Within two years they formed a new congregation, which came to be known as the Felician Sisters. As their numbers grew, so did their work, and so did the pressures on Mother Angela (the new name Sophia took in religious life).
Mother Angela served as superior for many years until ill health forced her to resign at the age of 44. She watched the order grow and expand, including missions to the United States among the sons and daughters of Polish immigrants.
Pope John Paul II beatified her in 1993.
Litany Of Blessed Mary Angela
Praise to you, God, our Creator.
All praise, and glory and thanksgiving.
Praise to you, Jesus, our Savior.
All praise, and glory and thanksgiving.
Praise to you, Spirit of Love.
All praise, and glory and thanksgiving.
*Response: Pray for Us …
Blessed Mary Angela, …
Lover of God's Will, …
Lover of Jesus in the Eucharist, …
Lover of Mary, …
Lover of the Gospel, …
Lover of Christ's Body, the Church, …
Lover of beauty and learning, …
Lover of your native land, …
Devoted daughter and sister, …
Faithful follower of Francis, …
Spiritual Mother, …

* Response: Inspire Us …

Servant of the needy, …
Guardian of family life, …
Enlightened woman of your day, …
Dedicated advocate of the poor, …
Compassionate caregiver, …
Pioneer religious woman, …
Woman of faith and prayer, …
Woman of mercy, ….
Woman of vision and courage, …
Woman of contemplation and action, …
Woman of wisdom and understanding, …
Model of self-denial, …
Model of reparation, …
Model of humility, …
Model of simple living, …
Model of perseverance, …
Angela, you were moved by the plight of neglected children, women, the sick, the homeless, the aged, the illiterate, immigrants, victims of war, and all who did not know the love and mercy of God, Pray for these people in our world today.