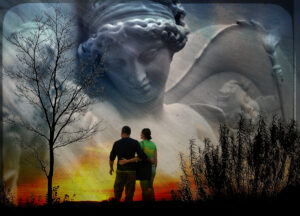 Angel of God, my guardian dear, 
to whom God's love commits thee here.
Ever this day, be at my side, 
to light, to guard, to rule, to guide.
Dear Guardian Angel,
enlighten me in my doubts,
assist me in my difficulties,
defend me against the assaults of the devil,
and be my guide on the way of perfection,
making me more and more acceptable in the eyes of God.
Amen
Perhaps no aspect of Catholic piety is as comforting to parents as the belief that an angel protects their little ones from dangers real and imagined. Yet guardian angels are not only for children. Their role is to represent individuals before God, to watch over them always, to aid their prayer, and to present their souls to God at death.
The concept of an angel assigned to guide and nurture each human being is a development of Catholic doctrine and piety based on Scripture but not directly drawn from it. Jesus' words in Matthew 18:10 best support the belief: "See that you do not despise one of these little ones, for I say to you that their angels in heaven always look upon the face of my heavenly Father."  (more)